Joe Rogan interviewed Dr Sinclair for 2 1/2 hours last week, and aired on his popular podcast on Jan 29th.
We were looking forward to this for weeks, as Dr Sinclair is always a great interview and probably the most knowledgable person on the planet regarding the current state of research on NAD+.
In case you're not that familiar, research with NAD+, and compounds to boost it like NMN and NR, are showing incredible results for health and longevity.
So if you want to be amazed and excited about the potential of stopping, or even reversing damage from aging (who doesn't?) check out Joe and David having a great chat: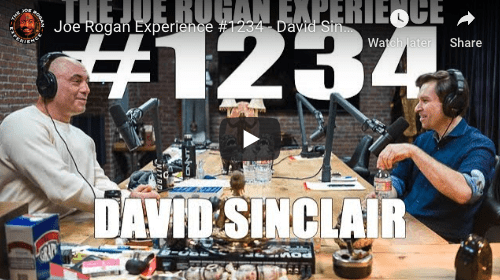 Here's a few notes:
33:45 – The epigenome and the cause of aging. Your DNA contains all your genes and the epigenome controls which genes are actually expressed, so that a liver cell can be a liver cell and a brain cell a brain cell. Over time, cells lose the ability to read the DNA, similar to a laser trying to read a scratched CD. Cells then become dysfunctional.
In older people a liver cell might show up in the brain and a brain cell in the kidney, all because it's becoming harder to read the CD and the wrong genes are getting expressed.
So how do you polish the CD to get the information that was easy to read in your teens and twenties restored again, resetting your age?
They haven't actually polished the entire CD yet but they are currently working on ways to do this in order to reset the entire epigenome back to a younger age.
See further explanation of this further down at 1:51:45. They've already figured out how to polish parts of the epigenome and repair tissue.
43 – Advances in ability to reprogram the epigenome. Clinical trials in early 2020 will focus on restoring eyesight, repairing spinal injuries and more.
1:45:40 – Sinclair has a company called Metro Biotech that makes "super NAD Boosters". They are testing this developmental drug (called MIB-626) along with NMN.
1:51:45 – New bioage test called the DNA clock. The epigenome changes over time due to methyls that bind to the DNA. The older you get the more methyls you accumulate (sunlight and x-rays are 2 examples of many that cause methyls to bind). Sinclair compares this to scratches on a CD that make the DNA harder to read. These build up over time, causing aging.
They can now read the methyls (scratches) on your DNA and give you a precise bioage. Sinclair said they believe that they can now reverse these scratches on the CD.
They are testing it now to reprogram the epigenome and re-grow optic nerves as well as reverse glocoma. Published results will be soon. As mentioned clinical trials in early 2020.
1:53:30 – Gives a sneak preview – they are about to announce a new academy for aging research made up of the top 20 longevity scientists in the world to produce white papers and opinions, sort of like a Manhattan Project for longevity research.